Careers
Our school-based Careers Leader, Mrs Bulger, provides two days of support every week on a Wednesday and a Thursday. Mrs Bulger co-ordinates our in-house careers programme, external visits and preparation for Post-16 options.
We also commission independent careers advice; Geraldine Brannelly is an independent, professional Careers Advisor based in school every Wednesday and Thursday.
Careers drop-in sessions are available two days a week at lunchtimes in The Careers Hub, with the Careers Leader or the Careers Advisor. Students can go along to ask for advice about courses and apprenticeships, pick up careers literature to take home, get help with their applications and find out about local careers events. The drop-in sessions are open to all students and no appointment is needed.
For the latest school Careers Team Update, please click on the link below:
Careers programme
In Year 7, students take part in a range of "Futures" talks, presentations and activities in all subject lessons. These are designed to connect skills and knowledge learnt in the classroom to future jobs and careers. This is co-ordinated by the Careers Working Party which is made up of teachers in all subject areas and careers staff.
In Year 8, students have a one-hour introduction to careers and the help provided in school. Careers input continues during each of our "Learning for Life" sessions held throughout the year, where students are encouraged to start to think about what they might like to do in the future and how they will get there. Year 8 students also take part in a Volunteering in the Community homework project where they gain valuable transferrable skills such as teamwork, leadership, meeting deadlines, self-motivation.
Year 9 students receive additional careers advice and support when choosing their GCSE Options. They attend a series of Options talks and assemblies in January which include advice about how to make decisions, the different pathways available to them and how GCSE subjects link to Post-16 routes. Year 9s also receive careers input at the "Learning For Life" sessions which are held in school throughout the year. Activities include employability and skills workshops with external careers companies. We invite employers, colleges and training providers into school to talk to students, for example, Year 9 girls have recently attended a careers talk with the RAF which will be followed up with a lunchtime drop-in session for Q&A
All Year 10 students attend an individual 40-minute careers interview and additional 1:1 appointments with either the Careers Leader or the Careers Advisor are available on request via Pupil Reception. As part of our commitment to preparing students for life beyond school, all Year 10 students participate in "Post-16 experiences". The normal timetable is suspended and all students engage in activities directly relevant to their future career path, widening their horizons and raising aspirations. The personalised programme is tailored to their likely progression route, with a mixture of skills development and self-reflection to help them make informed Post-16 choices. "Post-16 experience" activities and talks are designed to help students understand the range of Further and Higher Education opportunities available, and to get them to think ahead. These include:
Preparing a CV and personal statement
Decision-making skills
Employability skills
Types of courses and levels at Post-16
University education and different routes to Higher Education
Digital skills and Labour Market Information
Employer talks, including current apprentices and Chapel High alumni
Taster sessions and visits to local colleges and universities
All Year 10 students will learn how to prepare for interviews and will experience a formal interview situation with a visiting employer. We regularly invite employers, colleges and training providers into school to talk to students, for example, Year 9 girls have recently attended a careers talk with the RAF which will be followed up with a lunchtime drop-in session for Q&A.
Year 10s are also encouraged to gain essential digital skills and to sign up to complete the iDEA online badges (Inspiring Digital Enterprise Award ). These are internationally recognised awards which students can put on CVs and application forms to demonstrate their digital skills. The project was launched in school by the careers team and IT Department in December. Topics for these digital awards include online research, e-safety, coding, social media, business and entrepreneurial skills.
We invite colleges/sixth forms, training providers and employers into school throughout the year to hold lunchtime drop-in sessions. Students can go along to talk about the courses and training on offer, ask questions and collect literature to take home. Any organisations who would like to do a drop-in session can contact Mrs Bulger to arrange this at cbulger@chapelhigh.org.uk
Students take part in taster visits to local colleges and universities to help them think ahead to Higher Education opportunities. All Year 10 students will have the opportunity to prepare their CV and experience a formal interview with a visiting employer.
During Year 11 we ensure that all students have clear plans for their Post-16 and Post-18 routes, whether these be vocational or more traditionally academic. We provide intensive individual support to all students with their applications and interviews.
The careers team attend Year 9, Year 10 and Year 11 Parents' Evenings and Options Evening.

The school's careers programme for this year can be downloaded below.
A list of the open days and events coming up at local colleges and sixth forms can be downloaded below.
College and Sixth Form Open Events 2022
If you have any queries about our school careers programme, please contact our Careers Leader, Mrs Bulger, at cbulger@chapelhigh.org.uk.
Provider Access Statement
Introduction
This statement sets out the school's arrangements for managing the access of providers to pupils at the school for the purposes of giving them information about the providers' education or training offer. This complies with the school's legal obligations under Section 42B of the education Act 1997.
Management of the Provider Access Requests
Opportunities for Access
Our provision includes various opportunities for students to access a range of events. These are integrated into the school's careers programme and form a major strand of the Year 10 post-16 activities, Year 11 post-16 options evening and a variety of drop-in lunchtime sessions.
Procedure
Providers from more than 15 of our most common destinations are invited to key relevant events. In addition, external providers interested in coming into school should contact Mrs Catriona Bulger, Careers Leader on 01298 813118 or by email cbulger@chapelhigh.org.uk to arrange a suitable time. The school policy on safeguarding sets out the school's approach to allowing providers into school as visitors to speak to our students.
Resources
Once visits have been agreed, the school will provide appropriate rooming to facilitate the visit, along with any equipment requested by the provider, where this is available. Providers are encouraged to leave a copy of their prospectus or other relevant course/training literature at the Careers Hub which is open to students at lunch and break. Posters advertising open days and events at local providers can be displayed within school in the Careers Hub, careers noticeboard and library. Careers information is also circulated in tutor time careers presentations and via direct email to relevant students, via staff and student bulletins and directly from the Careers Team. Details about open days, events, vacancies and application deadlines can also be displayed on the school website and may be shared on school social media channels.
Labour Market Information
Labour Marketing Information (LMI) gives us useful facts about jobs and careers, including average salaries, weekly hours worked, future employment prospects and the growth in particular areas. LMI also helps us to compare information about different jobs and can be a useful tool in identifying potential career paths.
You can click on the LMI "widget" below to find out about UK and regional averages for specific job titles. Just type in the job you are interested in and the widget will provide a series of options to help you learn about and compare jobs. For more details about Labour Market Information, go to https://www.lmiforall.org.uk You can also find out about business growth, LMI and economic performance for the region at the D2N2 data centre here https://d2n2lep.org/data-centre/.
Actual Destinations data
As part of our agreement with Derbyshire County Council, we collect data about Year 11 'Destinations' to confirm what our students go on to do when they leave school. The purpose of this is to make sure that all students go on to enrol and attend a form of post-16 study (this might be a course at college, an apprenticeship or another type of training). This process also ensures that help is made available to any student who has not secured a place for any reason.
This year we are proud to say that 99% of our Class of 2021 are now in full time education or training, or have started an apprenticeship with a local employer. They have secured places at a great selection of colleges and sixth forms, training and apprenticeship providers, as can be seen in the charts below. This is a fantastic achievement, especially given the unusual circumstances we have often found ourselves in over the last few years, and our Actual Destinations figures are testament to our students' determination, hard work and positive attitude.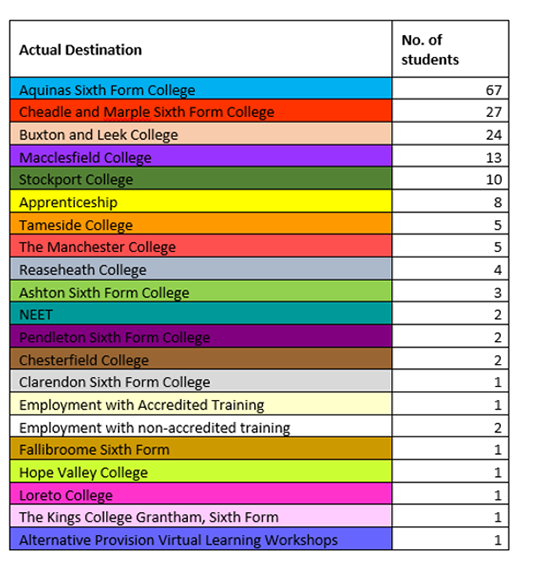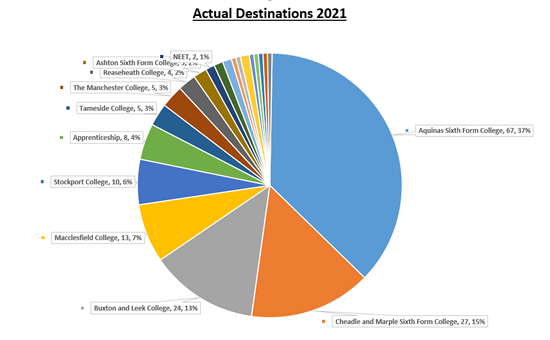 Useful Website links
www.nationalcareersservice.direct.gov.uk
The official Government website for independent careers information, with advice and guidance on courses, training and work.
www.apprenticeships.gov.uk
The official Government website for independent information about apprenticeships, with real case studies and live employer vacancies.
www.ucas.com
UCAS is an independent charity which provides advice about university study, including how to apply and entry requirements.
www.russellgroup.ac.uk
The Russell Group represents 24 leading UK universities. A useful website to help inform students' A Level choices and degree options.
www.opendays.com
For information about upcoming college and university open days.
www.prospects.ac.uk
The UK's biggest graduate careers website. For information and advice on graduate employment and postgraduate course opportunities.
For exploring careers opportunities and recording your progress (year 11).
Find out about a range of careers and build your career profile.
Tomorrow's engineers works with schools to inspire more young people to consider a career in engineering. For careers information, real case studies and a student Careers Quiz.
Screen Skills is the industry-led skills charity for the screen industries. Find out more about careers and apprenticeships, job profiles and advice on how to work in the film, TV, VFX (visual effects), animation and games industry.
Find out more about careers in the NHS and what type of job might suit you. With video stories, real life case studies and a Careers A-Z.
Creative Careers is an initiative run by Creative & Cultural Skills which aims to give young people more opportunities to work and learn in the creative industries. Contains job opportunities, detailed role profiles and careers events information.
An online resource created for future lawyers and the employers who recruit them. With a beginner's guide to a career in law, information about work experience and the latest news in the legal profession.
For the latest news, live job vacancies and careers advice for those wanting to work in the sports industry.

This website features over 1,000 videos of real-life people taking about their careers, explaining what their job involves, career paths and what has influenced their decisions. It also includes labour market information (such as salary and qualifications) and the "Buzz Quiz" where students can explore links between their personality and work.